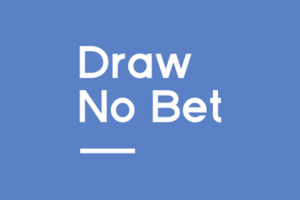 Draw no bet is a popular football bet that is very simple to understand, and most punters could probably take a well aimed stab in the dark purely from the name. Essentially, it is a wager on either the home or away team that if refunded if the match ends in a draw.
Below we take a look at how you can place a draw no bet in football, as well as detail what happens to your bet if the bet is made void. We also examine alternative options, such as the Asian Handicap and the Double Chance.
How Does it Work?

Perhaps the easiest way to explain the bet is with an example. Let's say Arsenal are playing Man United and you place a £10 bet on Man United to win at evens using draw no bet.
If the reds end the match victorious then your bet wins for a total return of £20, and if they lose your bet also loses for a loss of -£10. If the match ends in a draw then your money is refunded and you are back to where you started. In the table below you can see a quick run down of all of the possible outcomes in a draw no bet wager.
| Bet | Match Result | Bet Result |
| --- | --- | --- |
| Home | Home | Win |
| Home | Draw | Refund |
| Home | Away | Lose |
| Away | Home | Lose |
| Away | Draw | Refund |
| Away | Away | Win |
That's pretty much all you need to know. The odds of this kind of bet are going to be smaller than a traditional match odds bet, which is to be expected considering the fact that you're semi-eliminating one of the results.
A Note on Void Bets
One thing that you do want to pay attention to with this market is what you're using to place the bet and what kind of bet it is. Due to the very nature of the bet there is a strong chance that the wager will be refunded, or effectively made void.
Whilst this doesn't affect your bankroll, other than getting your money back, it does have some potential knock on affects when it comes to free bets and various other promotions.
Sign Up Offers – When claiming a free bet you often have to place a qualifying bet. Some bookies will award the free bet simply for placing the qualifying bet, but others require it to settle first. In the latter case, often a void bet will not trigger the free bet. This makes draw no bet a bad idea when you're trying to claim a sign up bonus.
Using Free Bets – Another potential spanner when using draw no bet with a free bet is that many sites will not refund the stake of a free bet. This means that if you place a draw no bet wager with a free bet and the match ends in a draw, you might not get your free bet back. In this scenario you have effectively 'lost' the bet, turning your draw no bet into a traditional match odds bet (but with worse odds).
Acca Insurance – Most acca insurance offers have a minimum number of legs to trigger the promotion, such as 5 or more. Because draw no bet effectively voids the bet, it is as if it never happened and is effectively removed from the acca. Therefore, if you were to place a five leg acca at a bookie that offers acca insurance on 5+ legs and one of those legs was refunded because of a draw no bet wager, then it would drop you down to a four leg acca, making you ineligible for acca insurance.
The long and short of it is that we'd recommend not using the draw no bet market when claiming or redeeming offers, unless you're absolutely certain that it won't affect the offer should the "no bet" element be triggered.
Alternative Options to Draw No Bet
There are a couple of bets that are very similar to draw no bet and also seek to eliminate the possibility of a stalemate. Each works in a slightly different way and should hopefully give you a few more options depending on how you think the match could go.
Asian Handicap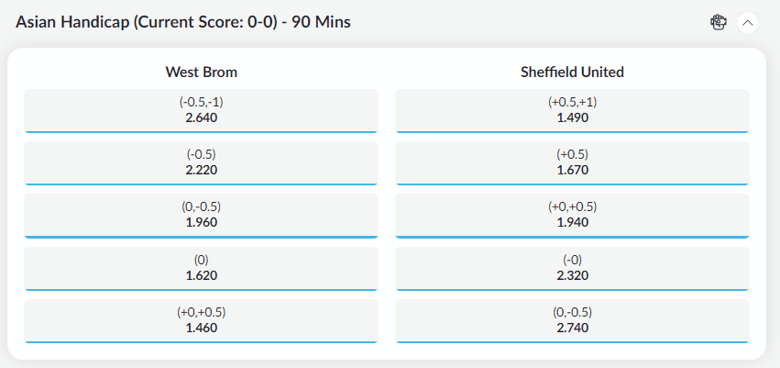 A regular 3-way handicap simple adjusts the scoreline and therefore doesn't remove the draw, but an Asian handicap specifically does away with it. Most punters are probably familiar with the idea of a half goal handicap (eg: +0.5 or -2.5) which removes the possibility of a draw completely but you can also place a whole goal Asian handicap which refunds your bet should the match end in a tie.
A zero point Asian handicap is, therefore, identical to draw no bet. If you back either team to win on an Asian handicap at +0.00 and the match ends in a draw then your stake is refunded. So from this perspective they could be used interchangeably and will have the same odds.
When the handicap is not zero, and assuming you're using a whole point handicap, then this effectively becomes a handicapped version of draw no bet. You can back a team to win at +1 and if the match ends in a draw after the handicap has been applied then you would have your stake refunded.
Half Point Asian Handicap – Totally eliminates the possibility of a draw using half point handicaps. Using increments of 0.5 as a handicap means that the match can never end as in a draw.
Zero Point Asian Handicap – This is identical to draw no bet. Written as +0.00 or -0.00.
Whole Point Asian Handicap – The same as a draw no bet wager but with the introduction of a whole point handicap such as +1 or -2. Here the draw is still possible, but when it is your stake would be refunded.
Double Chance
A double chance bet allows you to bet on two of the three match odds options, for example, the home team and the draw or the away team and the draw. You can also effectively lay the draw by backing both the home team and the away team to win.
Because you're covering 2/3 of the possible outcomes the odds are normally quite low, and you'll find that the odds for a home + draw bet will be noticeably smaller than the odds for a draw no bet wager on just the home team.
We've intentionally used the same match in the screenshots in this article (West Brom v Sheffield United) so that you can easily see how the odds compare. The table below shows the difference between the draw no bet and double chance odds:
| Bet | Draw No Bet | Win + Draw |
| --- | --- | --- |
| West Brom | 3/5 | 3/10 |
| Sheffield | 13/10 | 8/13 |
As you can see, the odds for West Brom to win in a draw no bet are 3/5 whilst backing them in the double chance (covering the draw) is much lower at 3/10. A £10 bet on the DNB market would return £16 if West Brom were to win, whilst the double chance would only return £13.
Obviously when it comes to the draw the double chance is much more favourable as it would also provide a return of £13, whereas the draw no bet would only return the £10 stake.
Essentially it comes down to how likely you think the draw is to happen. If you're just after a bit of insurance 'just in case' then draw no bet is probably the better option. But if you think the match could be very close, then you might want to look into the double chance options.