Football Bets
Betting and football go hand in hand and there's a whole plethora of bets that you can place on the beautiful game. There's also a lot of free bets up for grabs as well, dished out by bookies to lure in new customers and used to reward punter loyalty. On footballbets.tips we cover both the different kinds of bets you can place on a match as well as where you can find these magical free bets.
Latest Blog Posts
Football Free Bets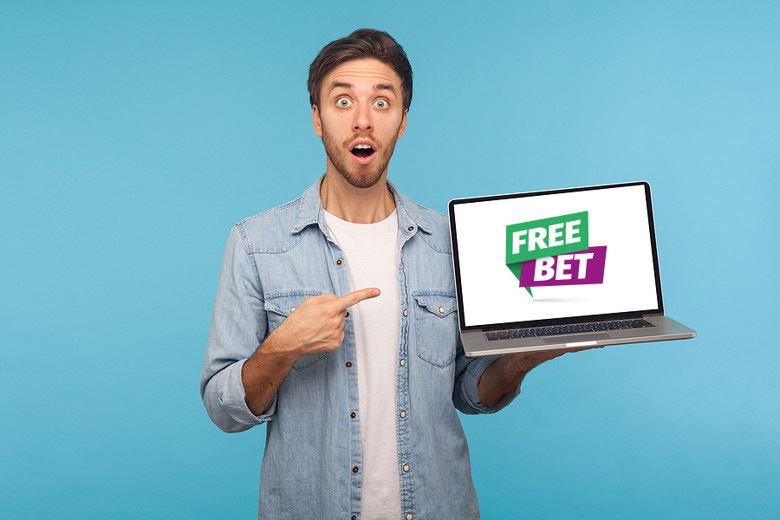 The term "free bet" is a bit of a misnomer as they're not completely free. To get your hands on them you'll almost always need to first place a wager of your own. Occasionally you do see offers pop up on big matches (such as a £5 free bet for all customers) but more often than not you'll need to stump up a bit of cash before you'll get any kind of bonus.
Common Questions
How Much Are the Free Bets Worth? – This varies between bookmakers but it tends to be somewhere between £25 and £50. Some offers are fixed (eg: Bet £25 for a £25 free bet) whilst others vary based on the amount you deposit and bet with (eg: 100% of your first deposit up to a maximum). Recently lots of the bigger bookies have become rather generous with their offers and it's not unusual to see free bets for £30 that are triggered by a £10 deposit and wager.
Which Bookmakers Offer Free Bets? – Honestly, pretty much all of them. But that doesn't mean they're all worth claiming. Some bookies offer poor terms or have a site or service that's so bad that we wouldn't recommend them. We've compiled a list of good free bet options from decent betting sites so we'd suggest you start there.
When Do I Get the Free Bet? – There are two different approaches to this and it just depends on the specific bookmaker. Some will award the free bet as soon as you have placed your qualifying real money bet, whilst others wait for your bet to settle. In both cases the free bets are normally released within 24 to 48 hours of meeting the relevant criteria.
Is There a Time Limit? – That would be a double yes. There's normally a time limit both to claim the offers after you sign up and to use the free bet once it's been awarded. For this reason you'll want to be avoid procrastinating too much once you've set your account up.
What Are Minimum Odds? – Lots of offers involve minimum odds. Your qualifying bet must be at least these odds in order to be eligible for the free bet. So if the minimum odds are 1/2 and you place a bet at 2/5 then you won't get the free bet. Some sites also require your free bet to be placed at a minimum odds value as well but not all sites. Generally speaking minimum odds tend to vary between 1/2 and evens, depending on the site.
What Does Stake Not Returned Mean? – The stake references here relates to you free bet. So if you receive a £25 free bet it the stake is £25. Many sites do not include this in the returns of your bet, meaning that if it wins you'll only receive the actual winnings. For example, if you placed a £10 bet at 2/1 with cash and it won you would receive £30 back (£20 winnings and £10 stake). With a stake not returned free bet you would only receive £20 (just the £20 winnings).
Types of Football Bet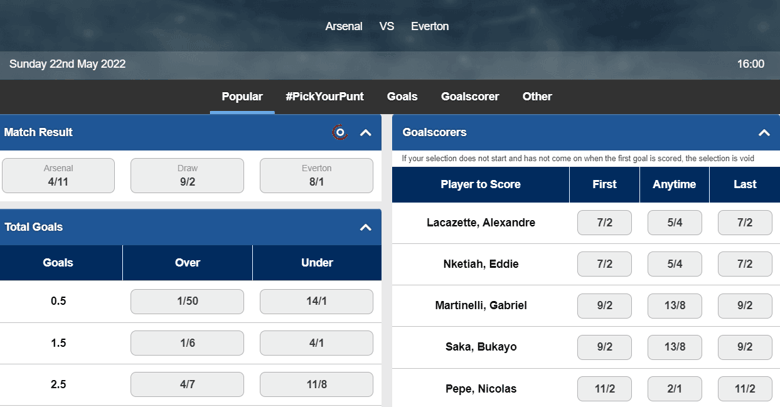 Generally speaking football bets fall into a few distinct categories. You do get the odd quirky outlier or hybrid variation but the following should cover the majority of wagers that you're likely to come across.
Match Result
Essentially here you're betting on the outcome of a match. Whilst it seems like a very simple task, the bookies have found plenty of ways to spice up your bets if you find the match odds a little too vanilla.
Match Odds – One of the most basic bets involves betting on the result of the game. Options include the home team, away team and the draw. Bets are only to 90 minutes, so anything that happens in extra time or penalties doesn't count. This is also commonly referred to as Win Draw Win (WDW) or Home Draw Away (HDA).
Double Chance – Double chance betting gives you two shots at winning. You can choose between one team and the draw or even box teams. Because you're backing two out of the three possible options the odds will be a lot lower than the match odds bets.
Draw No Bet – This lies somewhere between match odds and double chance. In this bet you pick one of the two teams to win and the bet is refunded if the match ends in a draw. The odds will be lower than the corresponding match odds bet, but higher than a double chance.
Half Time / Full Time – For larger odds you can also opt to predict the half time result. For example, if you fancy Arsenal to win against Chelsea you could bet on Arsenal/Arsenal, Chelsea/Arsenal or Draw/Arsenal. Note that you must be correct in both results and nothing is awarded for only getting the correct half time or full time result.
Handicap Bet – With a handicap bet you are giving one of the teams a head start – this could be by 1, 2, 3 or more goals. You can back the team with the handicap or the opposing team, or even the draw. With traditional handicap betting there are still three results (home, draw and away).
Asian Handicap Bet – The exact same idea as the handicap bet explained above, but using half goals (0.5, 1.5, 2.5 and so on). By using half goals it eliminates the possibility of a draw as one team will always end up with more goals than the other. For this reason asian handicap odds are lower than the equivalent whole goal handicap.
In addition to the above there are also a few slight tweaks such as Half Time Betting (where you are only betting on the result at half time, not full time), Win Both Halves (effectively the same as a HT/FT bet where you've picked the same team) and various combination bets that incorporate a match odds element alongside something to do with the final score – such as Match Odds + Both Teams to Score.
Goals & Score
Where your bet lives or dies based on the score. This could be as simple as wagering on what each team will have scored by the end of the match, or you could try to predict how many goals there are in total.
Correct Score – A simple to understand but tricky to win bet. With this wager you are attempting to correctly predict the final score. You'll need to predict the score for both teams in order to win this bet, making it one of the higher odds of the 'classic' football bets. As with the match odds only regular time goals count.
Total Goals (Over / Under) – If you're unsure what the exact final score could be but you have an inkling of whether it will be a high or low scoring match, you might want to opt for a total goals bet. These bets are normal under or over a certain amount, and you can choose from 0.5 goals, 1.5 goals, 2.5 goals or higher. Don't be tempted into always backing over 0.5 goals though, these bets do lose more often than you think!
Both Teams to Score – Born from the popular Goals Galore coupon, Both Teams to Score (also known as BTTS) is a very popular bet, particularly for punters who like an large-leg acca. Here you are simply predicting whether both teams will or won't score. There are also bets that combine BTTS with the match odds (eg: BTTS + Win) or that limit the bet to just the first half (eg: Half Time BTTS)
Clean Sheet – Effectively just backing one team to maintain a clean sheet in the match. Or to put it another way, you're betting a team to finish regular time with 0 goals against them. So if Man City were playing Everton and you were backing Man City to keep a clean sheet then you're effectively betting on Everton to score zero goals.
Highest Scoring Half – Another binary option. Which half will have the most goals scored in it – the first half or the second half.
As with the match odds bets there are also various sub bets with minor differences, such as Half Time Total Goals, Team Total Goals and First Team to Score. All of which operate exactly how they sound.
Goalscorers
For larger odds, many punters like to bet on the players rather than the team or the scoreline. An important note to make about these bets is that they only stand if your player actually plays in the match, otherwise they're made void and your bet returned.
First, Last or Any Time Goalscorer – Goalscorer betting can be tricky, but offers larger odds than a lot of the other bets you can place on a match. There are three main options for your player of choice based on whether you think they'll score first, last or at any point in the match. Some sites also allow you to bet "each way" on the first goalscorer market which acts like a normal first goalscorer bet but adds a reduced payout if that player scores at any time.
No Goalscorer – Here you are effectively betting on "no player" in the any time goalscorer market.
Player to Score a Brace or Hat Trick – If betting on a player to score in a match isn't juicy enough for you, there's also the option to back a player to score 2 goals in the same match or even to score a hat trick.
Scorecast – Scorecast bets could be considered a precursor to the Bet Builders described below as they allow multiple related bets to be combined into one wager. With a scorecast bet you're betting on the player to score and the correct score of the match. Other similar bets exist such as a Wincast which involves a player to score and their team to win the match.
Bet Builders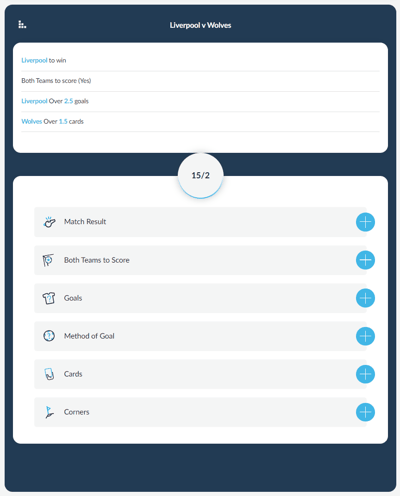 Want to combine bets from the same match in an acca? Traditional accumulators are out of the picture thanks to a pesky little clause called "Related Contingencies", after all if you're betting on Liverpool to score 2-1 against Man United you can't also pop it in an acca alongside Liverpool to win.
In order to satisfy punters desire to combine their bets the bookies invented a type of multiple bet that combines together wagers from the same match. The odds are a little difficult to calculate but they allow you to combine the result, goalscorer and things like corners and cards. Each bookie has their own name and style so you might want to test a few out to see what floats your boat the most.
Some bookies also offer completely custom bets which you can get odds for by tweeting to a special twitter hashtag. If accepted they'll add it to their site for you (and anyone else that wants) to have a bet on.