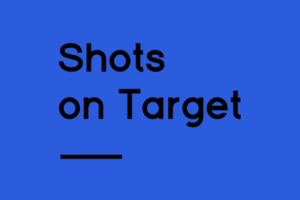 Goals are the greatest currency in football, with the best strikers in the world demanding high fees. They are what can win you games, but in order to score them a player has to have a shot on target. As a result, it has become commonplace for bookmakers to offer Shots on Target betting, which is pretty much exactly as it sounds.
You are placing a bet that a player will have a given number of shots on the opposition's target, usually in an Over format. That is to say, you are betting that the player will have Over 1.5 Shots on Target, as an example, so if they have 1 SoT your bet loses, but if they have 2, it wins.
What Is a Shot on Target?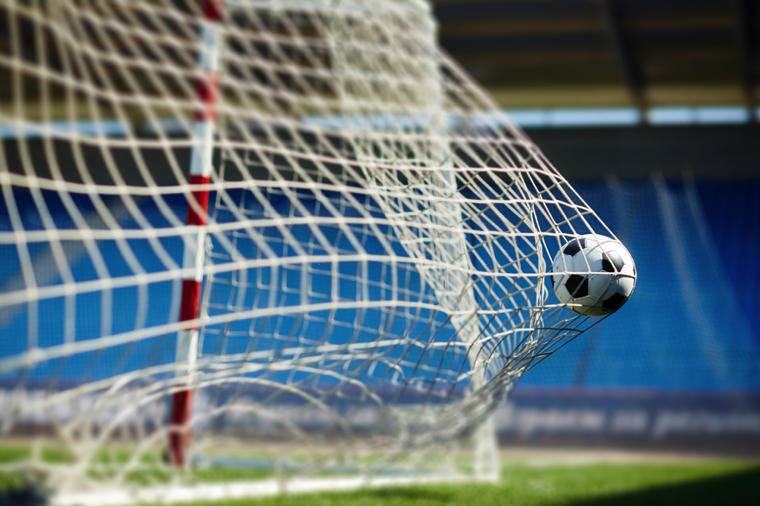 First things first, let's have a look at the actual definition of a shot on target. When it comes to any bets that involve specific stats, bookmakers tend to turn to organisations that have made their money out of statistics in general. Many of them use OPTA, for example, and will only accept a shot being on target if OPTA have said it was. As a result, it is worth considering OPTA's definition of a shot on target so that we know what we're talking about:
A shot on target is defined as any goal attempt that:
Goes into the net regardless of intent – For Goals only

Is a clear attempt to score that would have gone into the net but for being saved by the goalkeeper or is stopped by a player who is the last-man with the goalkeeper having no chance of preventing the goal (last line block)
The one thing that you'll note is that it doesn't mention shots that hit the woodwork. That is because the 'target' in a football match is the net, not the goalposts. If a shot hits the woodwork then it is not classed as a shot on target and won't count towards your tally. The good news, though, is that goals are counted as shots on target, which means that if they player that you've placed a Shots on Target bet on gets on the scoresheet, you'll be able to count that towards the overall tally for your SoT bet.
Betting on Shots on Target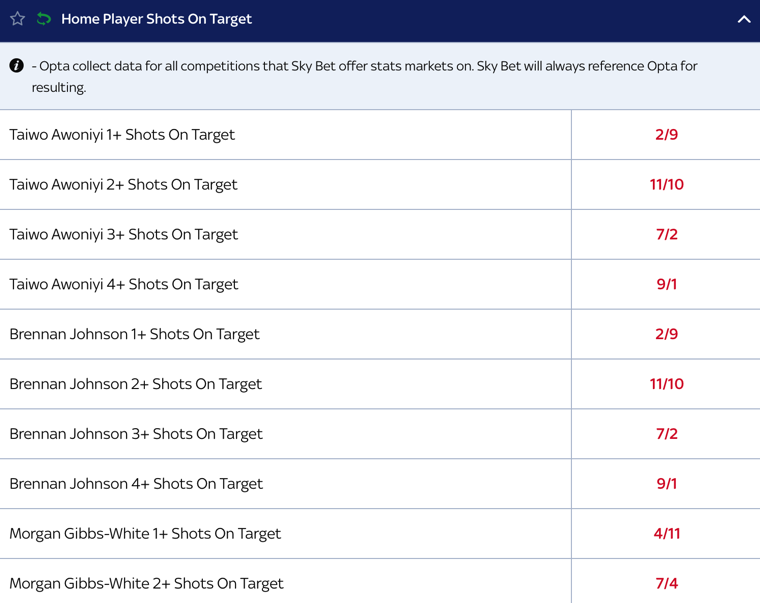 If you want to place a wager on Shots on Target then you might need to dig around a bit in order to find the option. There are a number of bookmakers that put it in their Bet Builder section, for example, as opposed to in their main betting area. As you might imagine, forward will get much lower odds when it comes to SoT than defenders, given that it is pretty much a big part of their job description to have a shot or two on target during a game. Some bookmakers will also give you the choice of betting on a player to have 1 Shot on Target or 2 Shots on Target. The more you bet on, the lower the odds will be.
Here is a look at some random examples from the Manchester City v Burnley game on the opening day of the 2023-2024 season:
| Player | 1 Or More Shots on Target Odds | 2 Or More Shots on Target Odds |
| --- | --- | --- |
| Erling Haaland | 1/12 | 4/9 |
| Kevin De Bruyne | 4/7 | 13/5 |
| Mateo Kovacic | 7/5 | 15/2 |
| John Stones | 11/4 | 18/1 |
| Jordan Beyer | 15/2 | 33/1 |
As you can see, a prolific striker, like Erling Haaland, who is 3/1 to actually score 2 or more goals during the same match, has stupidly short odds to have a single shot on target but much more generous odds when it comes to the 2 Or More Shots On Target market. That shows the extent to which bookmakers expect players to struggle to be able to get a shot on target during a match, whilst for defenders it is even longer. Jordan Beyer is a defender for Burnley and the odds for him in the 2 or More Shots on Target market are almost double those of 1 SoT.
The good news for bettors is that there are a wealth of websites out there that are stocked full of stats on players having shots on target. This means that you can do plenty of research before you even think about placing a bet. As an example, FBref tell you the SoT percentage per 90 minutes of all footballers in the Premier League. In the 2022-2023 season, Erling Haaland had 1.72 Shots on Target per 90 over the course of the campaign, which both explains why his odds were so short and why the odds for 2 or more Shots on Target dropped off somewhat.