On Tuesday 19th September 2023, Newcastle United made their return to the Champions League after a long absence. They battled to a hard-fought 0-0 draw in the San Siro against AC Milan and that has to be viewed as a positive result. The Magpies are up against it in a very tough Group F, with Paris Saint-Germain and Borussia Dortmund making up the quartet.
A point away was a solid start but it should be noted that Milan were beaten 5-1 by local rivals Inter in their last league game. Moreover, Newcastle were decidedly second-best here and could easily have lost the clash.
Nonetheless, many of their fans will simply be glad to be back in the Champions League, given they last played in the competition back in 2003/04. But have the Magpies ever won the Champions League or its forerunner, the European Cup? What has been their best performance in the competition and what does their overall record look like?
Have Newcastle Ever Won the Champions League?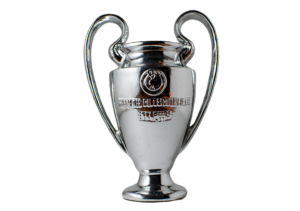 This is a nice easy starter for us because no, Newcastle United have not won this competition, either in its days as the European Cup or since the Champions League rebranding. In fact, prior to the birth of the CL, the North East club had only ever enjoyed four seasons of European competition, with three of those coming in the non-UEFA-sanctioned Inter-Cities Fairs Cup and one in the UEFA Cup (all between 1968/69 and 1977/78).
They have managed to make it into UEFA's top-tier competition since 1992, however. They had to work their way up to it though, playing in the UEFA Cup (the forerunner to the Europa League) in 1994/95 and again in 1996/97.
How Many Times Have Newcastle Appeared in the UEFA Champions League?
The famous black and white striped shirts of the Geordies have graced this elite-level competition just four times in total. That includes the 2023/24 campaign. Their previous appearances came in the 1997/98 season, then in 2002/03 and again in 2003/04.
It is safe to say, then, that they are far from regulars. With a 20-year wait since their last appearance it is easy to see why the Toon Army were so keen to enjoy their trip to Milan in 2023/24. However, thanks to their Saudi backing they will hope to establish themselves as UCL regulars in the years ahead and, in time, perhaps even challenge for the title – and then go on and win it!
What is Newcastle's Best Performance in the CL?
Well, as we have established, the Geordie boys have now been able to celebrate lifting this prestigious event and, in fact, have only made it to the start line three times previously. As such, we don't have a great deal to choose from when it comes to their "best ever" performance.
However, in 2002/03 they managed to progress through two rounds of the competition. The format of the CL has changed numerous times over the years and so direct comparisons cannot necessarily be made but in 2002/03 Newcastle not only made it through the Third Qualifying Round but also advanced from the Group Stage. There were two group stages that season though and they were eliminated at the 2nd Group Stage phase. Nonetheless, they managed seven wins in 2002/03, by far the most they have ever achieved.
1997/98: CL Bow Ends in Group Stage Pain
Newcastle finished second in the Premier League in 1996/97 and so qualified for the Group Stage of the CL the following campaign. Drawn against Dynamo Kyiv, Barcelona and PSV they would have fancied their chances but in the end had to settle for third place. They won two, lost three and drew one, as Barca took the wooden spoon and PSV qualified behind Kyiv.
2002/03: Tough 2nd Group Does for Toon
In 2002/03, Newcastle had to overcome Bosnian minnows FK Željezničar Sarajevo in the Third Qualifying Round, having finished fourth in the preceding campaign's PL. They won both legs without conceding to advance with an aggregate scoreline of 5-0. Next up was a first group phase, with Dynamo Kyiv once again, plus Juventus and Feyenoord. Three wins and three defeats gave them nine points, meaning they advanced second behind the Italian giants but ahead of Kyiv (seven points) and Feyenoord (five). The Magpies recorded a 3-2 win in Netherlands thanks to a stoppage-time strike from Craig Bellamy to book their spot in the next round.
The CL briefly had a double-group stage and so next up the Toon faced a tricky task to get past Barcelona, Inter and Bayer Leverkusen. It proved too much and despite beating the Germans 3-1 both home and away, Sir Bobby Robson's Newcastle could only finish third.
2003/04: Magpies Fail in Qualifying Round
Finishing third in the English top flight in 2002/03 meant that Newcastle once again had to play in the Third Qualifying Round. There were some big teams there with them, including former competition winners Celtic, Ajax and Benfica, plus the likes of Chelsea, Borussia Dortmund and Dynamo Kyiv. The Magpies were pitted against Serbian giants Partizan Belgrade and did the hard work by winning away from home in the first leg, Nobby Solano giving them a 1-0 victory. However, they lost the return 1-0 and after extra time the clash went to penalties. In a poor shootout, seven were missed but the Serbians progressed 4-3.
Newcastle United Champions League Record Appearance-Makers and Goalscorers
It is no real surprise to see Alan Shearer top the pile when it comes to the club's top goalscorers in the Champions League. Mind you, given the Geordie legend only managed seven, albeit from just 14 games, it won't be long before his record is broken. The second name on the list is, however, rather more surpising!
Top Scorers
Alan Shearer – 7
John Beresford – 4
Tino Asprilla – 4
Shola Ameobi – 3
Lomana LuaLua – 2
Hugo Viana – 2
Most CL Appearances
With the club set to play at least six games in 2023/24 and competition format changes as of 2024/25 that will probably mean five English teams in the CL, playing at the very least eight games, these records too may not last very long.
Shay Given – 20
Aaron Hughes – 15
Gary Speed – 14
Andy O'Brien – 14
Nolberto Solano – 14
Kieran Dyer – 14