Man City edged past Inter Milan to win the 2022/23 Champions League 1-0 in Istanbul and in so doing they secured the treble. That means they won their nation's highest-level league competition (the Premier League), its premier domestic cup (the FA Cup) and the Champions League.
Pep Guardiola, considered by many to be the greatest manager of all time, made his own piece of history by becoming the first boss to land the treble twice. He had previously accomplished this stunning feat with Barcelona and now moves joint-second on the list of managers with the most wins in the Champions League (including European Cups).
Over the years a number of managers have won the treble with various clubs around the continent. In fact, the full list of non-English treble winners is below:
2020 – Bayern Munich
2015 – Barcelona
2013 – Bayern Munich
2010 – Inter Milan
2009 – Barcelona
1988 – PSV Eindhoven
1972 – Ajax
1967 – Celtic
Celtic are actually the only side in Europe to complete a quadruple as they also claimed the Scottish League Cup in 1966/67. So, whilst Pep already achieved so much, he still has many more records to try to match or better. Can he become the first manager to win the treble twice with the same club? Can he match Carlo Ancelotti's four Champions League victories? Can he guide City to a clean sweep and match Celtic's quadruple?
All that is for the future though, let us know return to the question at hand: were City the first club to win the treble of the Premier League, FA Cup and Champions League?
Man United First English Side to Win Treble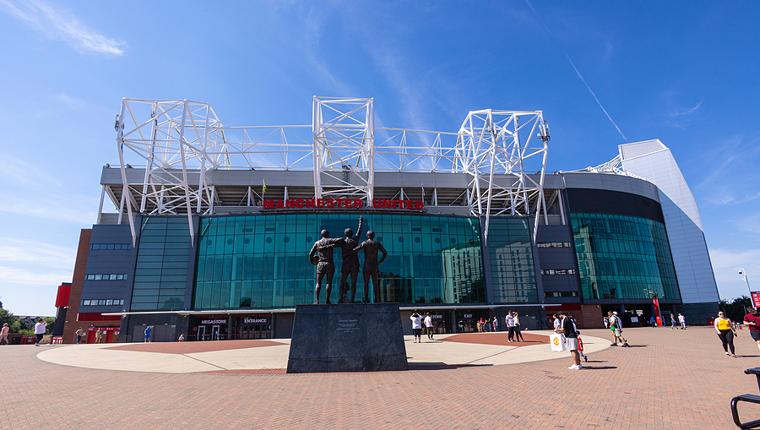 Anyone from the Red half of Manchester will be very quick to remind anyone who will listen that City are certainly not the first English side to land the treble. Back in 1998/99, (when Man City finished third in the third tier of English football), the Red Devils became the first English team to add the UCL to the FA Cup and Premier League.
In fairness, so dramatic was their triumph, that it is probably not just United fans who can remember the events of that season very clearly. To date, however, the treble achieved by Sir Alex Ferguson's Man United is the only other in English football aside from City's. So let's take a look at how they did it.
Premier League: United Pip Arsenal by One Point
By their crazily high standards, 1997/98 was a poor season for Fergie's men as they finished second in the league and failed to win any silverware (aside from the Charity Shield). However, they more than made up for that 12 months on as they lost just three times in the league to see off Arsenal by a single point.
They started the season poorly, with two draws, and whilst two wins followed, they were then hammered 3-0 by Arsenal. A poor run up to Christmas left them with work to do. However, they didn't lose a single game after their defeat to Boro on the 19th December. That 20-game unbeaten run saw them edge out the Gunners and the league title was theirs.
FA Cup: Red Devils Navigate Tough Draw to Claim Glory
United most certainly deserved their FA Cup triumph, which came courtesy of a 2-0 victory over Newcastle in the final. They beat the teams that finished second, third, seventh and ninth in the PL that term, as well as Fulham and the Magpies. It was an impressive performance but their FA Cup triumph will probably be best remembered for Ryan Giggs's stunning extra time winner against Arsenal in the semi-final replay.
Champions League: United Leave it VERY Late to Break Bayern Hearts
With the domestic double in the bag, United headed to Barcelona to face Bayern Munich, hoping to make history by completing the treble. Their campaign had started in the Second Qualifying Round against Polish side Lodz before a tough group draw saw them face both Barca and Bayern in the Groups Stage.
They finished ahead of the Catalans but a point behind the Germans, which gave them a tough route to the final. They managed to get the better of Inter Milan over two legs, winning 2-0 at home and drawing 1-1 in Milan. Next up was a very strong Juventus side and a 92nd-minute goal from Giggs in the first leg, at Old Trafford, earnt United a draw. The reverse fixture saw yet another Red Devils fightback as, inspired by Roy Keane, they came from 2-0 down after just 11 minutes to win 3-2 with an 83rd-minute winner from Andy Cole.
In the final they were losing once again, Mario Basler giving the Bavarian giants the lead after just six minutes. United were without both first-choice central midfield players, with Keane and Paul Scholes both suspended, and it seemed this would be too big a disadvantage for them to overcome. However, in the most dramatic of dramatic conclusions to such a huge clash, Teddy Sheringham scored in the 91st minute. When Ole Gunnar Solskjaer stuck out a boot to deflect a Sheringham header into the back of the net two minutes later the miracle was complete. It resulted in utter despair for Bayern but elation (and the treble) for United.
Was City's Treble Better than United's?
Football fans and pundits love a comparison but in reality what purpose do they serve? They may offer a fun debate and an interesting diversion but with so many variables can we really say that a great modern team is better than one of the past?
City secured 89 points in 2022/23, 10 more than United's tally when they landed their treble. But then United very possibly had a tougher draw in the Champions League and certainly far harder in the FA Cup. Ultimately they both won the three trophies and in football that is all that really matters. Can City end the argument with a quadruple? We shall see.